5 Tips for Training Exam Invigilators and Access Arrangements Support Staff
March 28th 2019
Well-prepared exam invigilators and helpers are a critical part of helping summer exams run smoothly for staff and pupils. Whether you do your training yourself, or want to take advantage of one of our hassle-free courses, we've pooled our experience and put together a 5-step guide for training invigilators and access arrangement facilitators.
Follow our tips and avoid last-minute stress!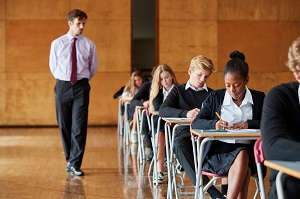 Make sure that you, or whoever is doing the training, knows the Instructions for Conducting Examinations (ICE) booklet back to front and upside down. The changes for this year are highlighted in yellow at the front of the book. Knowing the subject so well yourself will enable you to make your training clear and concise; absolutely essential when the chances are that all your exam helpers will have brains and lives as full as yours.


Make sure that invigilators and exam helpers know exactly what is and isn't permissible in the event of questions and disruptions. With exam stress on the rise and in the headlines, we all want to give our pupils a calm and uncertainty-free exam environment.


Make the training easily accessible. Getting everyone who needs training together in one room in one time is about as practical as herding cats. If you can record your training and offer it online to those who can't make it, you may be able to expand the number of helpers available to you, and avoid having to repeat the training several times yourself.


Don't forget to update existing helpers. If you're lucky, you will have faithful invigilators and helpers who help out year after year. But don't be caught out by thinking they don't need training. The JCQ has made it mandatory that existing invigilators be updated and made aware of changes for 2020, and you'll need to retain a record of the content of their training too (see below).


Keep a record of the training you give your invigilators and exam helpers. It is now obligatory to keep a record of the content of the training given on file for the JCQ inspectors to review when they come to inspect your centre, so don't be caught out.
For those short on time, or with too many to train, we are offering the online courses listed below to help you at a busy time. The TIE course trainers are Brian Rogers and Caroline Read. For as little as £70, you get 10 consecutive days access to train as many invigilators as you need to, either in big groups or letting them access it online themselves. Click on the courses below for more information and booking. You can email Debbie with any queries at online at communicate-ed dot org dot uk.
Covers the rules for invigilation as set out in the 2019/20 JCQ booklet 'Instructions for Conducting Examinations'
Does not cover access arrangements
90 minutes
£70 for groups of any size
10 consecutive days access
Covers the 2019/20 JCQ regulations relating to access arrangement facilitation
Useful for invigilators also overseeing access arrangements
75 minutes
£80 for groups of any size
10 consecutive days access
35 minutes
£30 for up to 3 delegates, add more delegates for £10 each
Focuses on the changes for 2019/20
25 minutes
£30 for up to 3 delegates, add more delegates for £10 each
Focuses on the changes for 2019/20